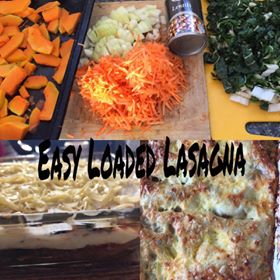 Here's my recipe for a delish lasagna that is super easy to make and packed full of veg. It's a great way to hide veges from kids and I have given measurements to make a bulk lot- the equivalent of 3 medium lasagna's. I quite often freeze them once baked.
Ingredients:
-1.5kg of mince (I used 1kg of beef and 400-500grams of pork mince as I had this on hand)
-oregano, sage or whatever dried herbs you have to taste.
-half cup of water
-2 onions
-1 can of chickpeas or lentils.
-2 carrots
-Bunch of silverbeet
-Half a pumpkin
-2 tins of chopped tomatoes
-50 grams of tomato paste
-1 Tablespoon of brown sugar
-1 Tablespoon of balsalmic vinegear
-1 tablespoon Worcester sauce
-2 tsp of minced garlic
-2 packets of lasagna sheets
For the cheese sauce:
-2 cups of milk
-1 cup of grated cheese
-4 Tablespoons of flour
-4 Tablespoons of butter.
Chop half a medium sized pumpkin into slices no thicker than 1cm and par-bake in the oven with a little oil.
Fry off diced onions in a little oil and brown the mince. Add the garlic, tinned tomatoes, balsalmic vinegar, brown sugar, 1-2 teaspoons of herbs and water.
Add chopped silverbeet, grated carrot and one tin of drained chickpeas or lentils. Let this simmer/wilt down.
For the cheese sauce melt 4 Tablespoons of butter in a pot on medium heat. Add the 4 Tablespoons of flour and stir quickly to get a smooth paste. Add 1 cup of milk and stir. After a few minutes add the second cup of milk. Let simmer and stir until thick and smooth. Take off the heat and add a little salt and pepper and 1 cup of cheese stirred through, let it cool.
Layer up the baking dish with the base layer being pumpkin, on top of this mince, and then the lasagna sheets. Top with cheese sauce and then add second layer of mince.
Top this with another lasagna sheet, remainder of the cheese sauce and top with a little grated cheese.
Bake in the oven at 180 degrees for about an hour or until you can put a sharp knife through soft lasagna sheets.
Like I said this makes 3 Medium lasagnas' so feel free to halves this recipe if you just want to make one large one. It;s great to get rid of any veg looking like its at the end of its life. Enjoy!