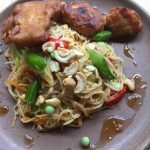 I couldn't not share this beauty! It came about when I had planned a healthy thai chicken noodle salad and got cold feet. You know when you wish you were the person you envisioned when you bought all the healthy ingredients! Really, I was 2 weeks post partum coming off the back end of a cluster feeding marathon with 3 kids dismantling my lounge around me and this girl wanted some chinese takeaways! But no no, I wasn't going to ring hubby and get him to bring that home when i had food to cook. And ya know, we have four kids and a mortgage we are poor AF haha. So this recipe is healthy gone takeaway style and is very budget friendly for a large fam. I aim to make most recipes as healthy as can be but if you are here for the keto/paleo  life then move along. Hence, why I have added the breakdown costs not weight watchers points.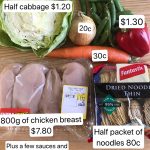 This recipe would make enough for a generous 4-5 adult serves. For us, we fed 2 adults and 3 children and had 2 adult portions leftover for lunch the next day. This makes an adult serve approx $3.30.
Ingredients
Sauce:
1/2 cup sweet chilli sauce
1 tsp sesame oil
1tsp oyster or fish sauce
1Tbsp of honey (melted)
1Tbsp of crushed garlic
1Tbsp of crushed ginger
2Tbsp of soy sauce
1/4cup of water
Noodle salad:
packet of your choice of noodles (egg, rice etc)
1 capsicum
1/2 a cabbage
Handful of snow peas (optional)
1 carrot
1 onion
Approx 800grams of chicken breast or thigh
You can really add whatever veg you like, especially the manky ones on their last leg!
Chicken batter:
1 1/2 cups of cold water with a handful of ice in.
2 eggs
1 cup plain flour
1/2 cup cornflour
1/2 tsp salt
1/2 tsp baking soda
1/2 tsp of baking powder
Method:
1)In a pan with oil fry off diced onion, capsicum and grated carrot. Add the cabbage cut finely and add a little drizzle of water to help to cook down. Once par-cooked leaving veg still a little crunchy, remove from pan and transfer to a large bowl.
2)Dice your chicken into cubes approx 2-3×2-3cm.
3)Remove ice cubes from ice water once cold, add 2 eggs and whisk. Add the rest of the batter ingredients and mix. Remove most lumps but this doesn't need to be a smooth paste.
4)Get your water boiling for your noodles and get your pan hot for the chicken. Depending on the size of the pan add 1-2 cups of rice bran oil or vegetable oil. You need enough oil for the chicken to be at least half submerged.
5)Once the oil is really hot, dunk pieces of chicken into the batter and into the pan. You may need to do 2-3 batches so you do not overcrowd the pan. Once brown and crispy, test one piece to ensure cooked and let rest on a paper towel.
6)Mix up all sauce ingredients.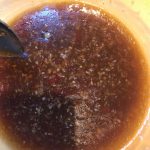 7)Boil your noodles as specified on the pack. Once noodles are cooked and strained add a good drizzle of sesame oil and stir through. This helps the noodles to not bind together when you mix your salad.
8)Add noodles to the veg bowl, mix in the sauce and serve. Add chicken to the side and add cashews or peanuts as a topping.
There you have it guys chinese fakeaways for a fraction of the price!